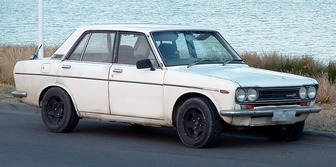 Type
4/5S SAL
Number of doors
2
Wheelbase
2420 mm 95.3 in
Track: Front
1270 mm 50 in
Track: Rear
1270 mm 50 in
Length
4120 mm 162.2 in
Width
1560 mm 61.4 in
Height
1410 mm 55.5 in
Length:wheelbase ratio
1.7
Kerb weight
965 kg 2127 lb
Fuel capacity
46 litres 10.1 UK Gal 12.2 US Gal
Bore
83.00 mm
Cylinders
S-4
Displacement
1.6 litre1595 cc(97.333 cu in)
Compression ratio
9.50:1
Fuel system
2 Hi carbs
Maximum power(DIN)
93.3 PS (92.0 bhp) (68.6 kW)@ 6000 rpm
Specific output
57.7 bhp/litre0.95 bhp/cu in
Maximum torque(DIN)
140.0 Nm (103 ft?�·lb) (14.3 kgm)@ 4000 rpm
bmep
1103 kPa (160 psi)
Specific torque
87.77 Nm/litre
Manufacturer
Nissan
Main bearings
5
Coolant
Water
Bore/stroke ratio
1.13
Unitary capacity
398.75 cc/cylinder
Aspiration
Normal
Compressor type
N/A
Intercooler
None
Catalytic converter
N
Top speed
175 km/h (109 mph)
Power-to-weight
95.34 bhp/ton
Engine location
Front
Engine alignment
Longitudinal
Drive
RWD
Suspension
front
Brakes F/R
Di/Dr
Transmission
4M
Top gear ratio
1.00
Final drive ratio
3.70
RAC rating
17.1
Model family
P510
year
1970
DATSUN 1600 SSS - 4 page article describing a readers restoration of a 1970 car SKODA - On your marques article, 7 pages telling the story of this company which has
DATSUN 1600 SSS P510 CIGARETE LIGHTER IN GD CONDPlease waitImage not available * Enlarge DATSUN 1600 SSS P510 CIGARETE LIGHTER IN GD
driver Kishen Bhandari work on his Datsun 1600 SSS in preparation for the East African Safari Classic, which starts this week from Mombasa.
Looking for another Datsun 1600 SSS that I can take back to US. I have people wanting to have this version.
"I think the Datsun 1600 SSS is the best car built by the Japanese in the 70s," remembers Salongo Benson Lutwama, who had one.
I have a car, a Datsun 1600 SSS which was brought back from Penang the first time by our neighbours Ray and Kay Jones.
IF YOU OWNED A CONCOURSE DATSUN 1600 SSS THIS IS A BADGE FOR YOU..
From 1968 to 1970 the Datsun 1600 SSS was supplied to Australia from Japan on special order, and unfortunately their lack of availability resulted in very low sales.