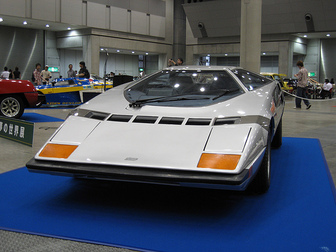 Picture has been licensed under a Creative Commons
Attribution
.
Original source
: http://www.flickr.com/photos/yukogets/2192368986/
Author
: yukogets (Flickr User)
Type
2S FHC
Number of doors
2
Wheelbase
2400 mm 94.5 in
Track: Front
1400 mm 55.1 in
Track: Rear
1450 mm 57.1 in
Length
3980 mm 156.7 in
Width
1770 mm 69.7 in
Height
980 mm 38.6 in
Length:wheelbase ratio
1.66
Ground clearance
130 mm 5.1 in
Kerb weight
920 kg 2028 lb
Bore
86.00 mm
Cylinders
S-6
Displacement
2.8 litre2753 cc(167.998 cu in)
Fuel system
3 So carbs
Maximum power
145 PS (143.0 bhp) (106.6 kW)
Specific output
51.9 bhp/litre0.85 bhp/cu in
Manufacturer
Nissan
Code
L 28
Main bearings
7
Coolant
Water
Bore/stroke ratio
1.09
Unitary capacity
458.83 cc/cylinder
Aspiration
Normal
Compressor type
N/A
Intercooler
None
Power-to-weight
155.43 bhp/ton
Engine location
Mid
Engine alignment
Unknown
Drive
RWD
Steering
rack & pinion
Suspension
front
Tyres: Front
185/60 VR 13
Tyres: Rear
255/55 VR 14
Brakes F/R
VeDi/Di
Transmission
5M
RAC rating
27.5
year
1978
The Dome Zero (童夢-零, dohmu zero?) was a prototype sportscar from DOME Co. Ltd that was exhibited at the 48th Geneva Auto Show.
BONUS: Watch the Dome Zero run in Gran Turismo 4 Filed under: Classics, Japan, Supercars Tags: 1970s, dome zero, DomeZero, japan, supercar, tomica, tomy
1978 they gave the world the Dome Zero concept at the Geneva Motor Show.
Dome Zero (Final) - File Description Click here to Download this File Quality: 8 Creativity: 9
Introduced to the hall of Geneva 1978, Dome Zero is practical the first attempt of Minoru Hayashi to create a supercar in small volumes and homological for street use.
When the wraps were taken off the Dome Zero at the 1978 Geneva motor show, there were some sharp intakes of breath.
Dome Zero RL - Ford Cosworth DFV as it was entered at Le Mans 1979 for Bob Evans - Tony Trimmer - Chris Craft. The team retired after 4 hours with head gasket failure.
El Dome Zero esta propulsado por un motor nissan de seis cilindros y 2.8 litros, que entregan cerca de 154 hp. El auto pesa un total de 2028 libras. Fuente:Autoblog.
Prefinished Fully-Detailed Diecast Model, 1978 Dome Zero Coupe in silver with green striping. 898 EBBRO 1/43 Scale Prefinished Fully-Detailed Diecast Model, 1978 Dome Zero Coupe in silver with green striping.