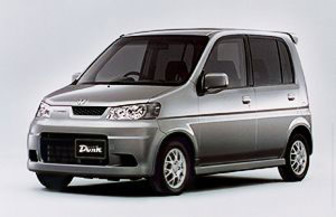 Type
4S HBK
Number of doors
5
Wheelbase
2360 mm 92.9 in
Track: Front
1305 mm 51.4 in
Track: Rear
1295 mm 51 in
Length
3395 mm 133.7 in
Width
1475 mm 58.1 in
Height
1605 mm 63.2 in
Length:wheelbase ratio
1.44
Ground clearance
155 mm 6.1 in
Kerb weight
860 kg 1896 lb
Fuel capacity
31 litres 6.8 UK Gal 8.2 US Gal
Bore
66.00 mm
Cylinders
S-3
Displacement
0.7 litre656 cc(40.032 cu in)
Compression ratio
8.50:1
Fuel system
Honda PGM-Fi
Maximum power(JIS)
63.9 PS (63.0 bhp) (47 kW)@ 6000 rpm
Specific output
96 bhp/litre1.57 bhp/cu in
Maximum torque(JIS)
93.0 Nm (69 ft?�·lb) (9.5 kgm)@ 4000 rpm
bmep
1781.5 kPa (258.4 psi)
Specific torque
141.77 Nm/litre
Manufacturer
Honda
Code
E07Z
Coolant
Water
Bore/stroke ratio
1.03
Unitary capacity
218.67 cc/cylinder
Aspiration
Turbo
Catalytic converter
Y
Power-to-weight
73.26 bhp/ton
Engine location
Front
Engine alignment
Transverse
Drive
FWD
Steering
rack & pinion
Turning circle
9.00 m
Suspension
front
Tyres: Front
155/65 R 13 73S
Tyres: Rear
155/65 R 13 73S
Brakes F/R
Di/Dr-S
Transmission
3A
Top gear ratio
0.84
Final drive ratio
5.31
RAC rating
8.1
Model code
LA-JB3
year
2003
Honda Life Dunk is a Honda automobile released in Japan in December 2000. It has a turbocharged engine.
Enter the 02 Honda Life Dunk discussion group Related cars Get a list of related cars for comparison of specs. See all Honda models.
In December 2000, a turbocharged variant named Honda Life Dunk was introduced as 2001 year model. Honda Life Dunk and Honda That's were listed by Forbes magazine as among the weirdest car names.
Related links: view Honda Life Dunk pics and specs in japanese cars catalog Summary stats on model Honda Life Dunk Total - 1896 Date
Honda Life Dunk Honda Life Dunk, a Honda automobile released in Japan in December 2000wikipedia Honda N360 Honda N360 - Honda N360 Honda N360, a Kei
warranty honda life dunk honda life vest honda lifetime powertrain warranty honda lifetime seat belt warranty honda life mpg honda lifespan honda life expectancy honda lifestyles Related News: honda life honda
The Honda Life Dunk is classed as a Small / Economy Cars by the majority of its drivers.
Alle Web-Ergebnisse für Honda Life Dunk » «Bilder von Honda Legend Bilder von Honda Bilder von Honda MDX» 82 Bilder von Honda Life Dunk =
More informaion is available on the Honda Life Dunk TR 2002 in our easy to follow table below Specifications Table Catagory Small / Economy Cars