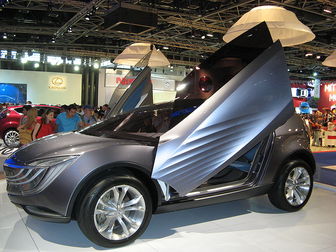 Picture has been licensed under a Creative Commons
Attribution
.
Original source
: Transferred from en.wikipedia
Author
: Original uploader was Flashman5 at en.wikipedia
Type
4S ORV
Number of doors
3
Wheelbase
2650 mm 104.3 in
Length
4420 mm 174 in
Width
1890 mm 74.4 in
Height
1560 mm 61.4 in
Length:wheelbase ratio
1.67
Bore
87.50 mm
Cylinders
S-4
Displacement
2.3 litre2261 cc(137.975 cu in)
Fuel system
direct petrol injection
Manufacturer
Mazda
Code
MZR 2.3 DISI TURBO
Coolant
Water
Bore/stroke ratio
0.93
Unitary capacity
565.25 cc/cylinder
Aspiration
Turbo
Catalytic converter
Y
Engine location
Front
Engine alignment
Unknown
Drive
AWD
Suspension
front I.MS.
Track: Rear
I.MultiLi.
Tyres: Front
Dunlop 255/50 R 20
Tyres: Rear
Dunlop 255/50 R 20
Transmission
6A
RAC rating
19.0
year
2007
The Mazda Hakaze Concept, is a concept car that was revealed in early February 2007.
Mazda Hakaze concept also has a wireless charging pad located in the glove box (also using Bluetooth®) to recharge the batteries of a mobile phone, PDA, camera or MP3
Mazda Hakaze Concept in Second Life = news Picture Gallery Posted on 02.16.
The Mazda Hakaze concept has no B-pillar, and the rear two-thirds of the glass roof can be taken off in two parts and stored in a slide-out compartment in
Mazda Hakaze Concept Car Mazda will unveil their latest concept car at the Geneva International Motor Show next month.
Mazda Hakaze Concept Car: 4-seat coupe-style compact crossover SUV - By Mike Hanlon 22:00 January 7, 2007 6 Pictures
Mazda Hakaze Concept - Image Gallery The Hakaze Concept is a compact coupe crossover vehicle that adopts the same nature-inspired design language seen on the latest Mazda concept cars.
Mazda Hakaze Concept Car now at Second Life = Mazda Hakaze Concept on Second Life Cyberspace Version -
Mazda Hakaze Concept - Front Angle, 2007, 1 of 35 Mazda Hakaze Concept - Front Angle, 2007, 2 of 35 Mazda
Mazda Hakaze concept bows in at Geneva. Image by Mazda.
Mazda Hakaze concept to hit stand at Geneva show Mazda bringing more "flow" to Tokyo in form of Taiki concept
 Mazda Hakaze Concept (Mazda Concept) wallpaper downloadAll Car Wallpapers - High resolution car photos and wallpapers line Wallpapers of the month: Elite tuner from Sweden: Mr Lookaz Kooz